Roberts Veterinary Services (RVS) was founded in March of 2021, by Dr. Jeanette Roberts, in order to provide safe, compassionate and peaceful in-home euthanasia for families in St. Clair County and surrounding areas. She does not provide regular veterinary service in order to be available as much as possible for sudden changes in pets health, requiring rapid scheduling of euthanasia. 
Dr. Roberts is honored to give your family the opportunity to say goodbye to your beloved family member at home. She understands the grief and loss involved with this decision and the deep sorrow involved in the entire process. Dr. Roberts became interested in IHE (In home euthanasia) after a combination of many events throughout her career that showed her the importance of the human animal bond, the connected spiritual nature of animals, and the comfort and ease of experiencing this all in the home environment. At home, there is the best chance for processing all of the complex emotions involved, and your pet feeling the full support of their family without distraction. 
Dr. Roberts is available to help answer any questions you have so you feel comfortable with your decisions, whatever they may be.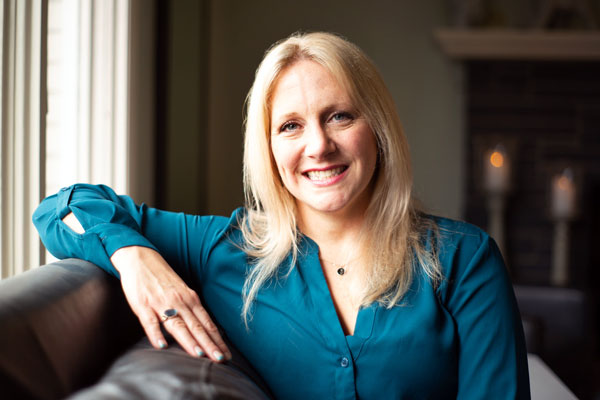 Dr. Roberts graduated from The Ohio State University College of Veterinary Medicine in June 2003. She immediately moved to Michigan to begin her career in Clinton Township, until moving to the Port Huron area in 2005. She has contributed to the profession in almost every way possible throughout her career, including research, teaching, small and large animal medicine and surgery, house calls, Eastern medicine/acupuncture, and telemedicine. She loves the passion and science of veterinary medicine, as well as the ability to think and problem solve in nonconventional terms.
Dr. Roberts has always loved her clients and students as much as her patients. Her goal is to continue making a positive impact within the profession, as well as every professional encounter. Dr. Roberts has 3 human children and 2 golden retrievers - Henson and Dougie. 
Dr. Roberts understands the powerful emotions you may experience throughout this process. You are welcome to discuss any concerns leading up to the appointment via phone call or text, at any time. 
The appointment will begin with an introduction, and the pet owner will be required to fill out brief medical paperwork, including an authorization signature by the legal owner or authorized representative, for the euthanasia to be performed. Payment will be accepted at this time as well. 
The medical portion of the appointment includes two injections. The first is a sedation, pain relief and tranquilization cocktail that will be given in the muscle of the hip/back/thigh area. This first injection takes effect gradually, and will create a relaxed, comfortable and sleepy state for the patient. Once the pet is very sleepy, the second injection will be given in a vein. This injection is an overdose of surgical anesthetic, and is painless. This is the euthanasia injection, and will stop the breathing and heart.
Dr. Roberts will listen for the heart to stop and pronounce the death once the pet is deceased.
OSU offers pet owner grief resources - click here
FAQ's
1
Do you provide service in my area?
Dr. Roberts is currently providing services for families in the counties of: St. Clair, Sanilac, Lapeer, Macomb and Oakland.
2
How much does this service cost?
The cost is dependent on the location, the weight of the pet, and whether or not cremation service is also requested. There are several options for cremation service, so please call or text 810-375-3545 to discuss which option works best for your family.
3
How do I pay for service?
Dr. Roberts will accept payment upon arrival unless prior arrangement is made. Cash, personal check, Zelle and CC/debit cards are accepted. There is a 4% fee for card use.
4
How quickly can you get here?
Appointments may be immediate, or up to a few days or weeks in advance, depending on Dr. Roberts' schedule and the needs of the individual patient. RVS is not an emergency clinic, and Dr. Roberts will accommodate appointments to the best of her ability. With more advance notice, she will be better able to accommodate your schedule, and ensure all individuals wishing to be present are able to be there for the appointment.
5
How long does the appointment take?
Appointments generally take between 30-60 minutes. If cremation is desired, the appointment time runs a little longer since your pet will need to be moved to the vehicle for transportation. Appointments may be made for in home euthanasia only. Families may choose burial, or make their own arrangements for cremation.
6
What will I need for the appointment?
Blanket and towel: Your pet may need to be partially covered with a blanket to help with restraint while giving the sedation injection. Pets often release their bladder after sedation or passing, and a towel may be placed underneath to keep the area clean.
Pet's bed, blanket and favorite toys, if they have them.
Music or TV noise if desired. Some pets have favorite sounds or shows.
Other pets: Other pets are also family members, and are welcome in the appointment if desired. Most of the time, they are very excited to see Dr. Roberts initially, but calm down quickly and are a valued addition to the family throughout this difficult process.
Treats: Treats may be given throughout the appointment.
7
What is the difference between group/common and private/segregated cremation?
Group, or common cremation, is cremation for families that do not want their pet's ashes returned but do not want the pet's body to go to a landfill. Multiple bodies may be placed in the crematory unit at one time, and cremated together. Private, or segregated cremation, is cremation of your pet alone, with their particular ashes returned to you.
8
My dog is very large and I would like cremation service; how will we move him/her after they have passed?
Dr. Roberts has equipment to help transport the patient to her vehicle, but will require assistance if pets are over 40 pounds. If no assistance is available, cremation arrangements will need to be made with a separate company.
9
Do you see patients for regular veterinary care also?
Dr. Roberts does not provide any routine or emergency veterinary care (examinations, vaccinations, medicine or diagnostics). Appointments are made for in home euthanasia only. Dr. Roberts does not carry the necessary medication or equipment for any other veterinary care.
***Please be advised, these are photos of an actual IHE and may be disturbing to viewers***
We had to euthanize our 19 year old cat, Lilly.

 

Dr. Roberts was wonderful. She contacted us back quickly, and arrived the same day. I would highly recommend her if you want a warm and caring person in this sad moment in life.

Although we had to have Dr. Roberts out to our house for a heartbreaking situation, we could not have asked for a more compassionate person. From the instant she walked in the door, she was caring and understanding. I'm very thankful her service was available for our beloved Delilah.

Dr. Roberts was amazing with our dog, Duke. She made a heart breaking situation a little less painful. She was very kind and compassionate, both to us and to Duke. We would highly recommend her services to anyone wishing to give their beloved pet the most peaceful transition possible. Thank you for what you do, Dr Roberts.

I cannot recommend Dr. Roberts enough, she is great at her job and was so compassionate and caring during our time of need. Our dog had such a peaceful passing and our family was so impressed with Dr. Roberts professionalism and care for our dog. Being able to say good bye to our Belle in our own home was peaceful and gave us all a sense of closure. Thank you Dr. Roberts.